● Fine Dining ● Home Cooking ● Kitchen Cleaning ● Replenishments ● Home Décor ● Event Server ● Diet Supplement ●
FHARAH'S KITCHEN®
African Restaurant Online
Ever heard that nothing beats the pleasure of eating good food?
The saying is true, as most of us can identify with it firsthand.
Yes, who can resist the aromatic lure that comes from a freshly prepared meal waiting to be served?
Even those with the most discipline and self-control would do that a bit reluctantly.
At Fharah ladey, you'll eat and not feel shy of being filled.
Yes, Fharah ladey is an online African restaurant based in Hudson, New Hampshire, whose goal is to mesmerize your taste buds with a great delight of African delicacies.
It boasts of a healthy kitchen with various African dishes prepared delicately to soothe your taste buds.
Here, you'll get homemade African delicacies, prepared in the most sanitary environment by chefs from the motherland.
So, worry no more.
A simple web search and hitting the menu button can bring your African meal of your choice to your doorstep anywhere in the United States.
We offer not just traditional African foods, but all food complements like:
Drinks
Entrée
Dessert
Cocktail
Appetizers
Salad
Fharahs restaurant is a melting pot of flavor for Nigerian and other African delicacies and recipes.
At Fharah, we bring lifestyle to food.
We understand that food says a lot about who we are and where we come from. So we provide a contemporary setting where you eat, relax, and experience everything African.
So make it your next call to stop for breakfast, lunch, dinner, or for a light bite to fuel your energy drive during the day's activities.
Want to know the best part: Fharahs restaurant offers not just healthy and tastebud-friendly food choices but does so at pocket-friendly prices.
Yes, with a decent budget, you'll have the best food experience at the Fharahs. To give yourself the best food treat, visit https://www.fharah.com for your authentic African cuisines, and you'll never regret doing so.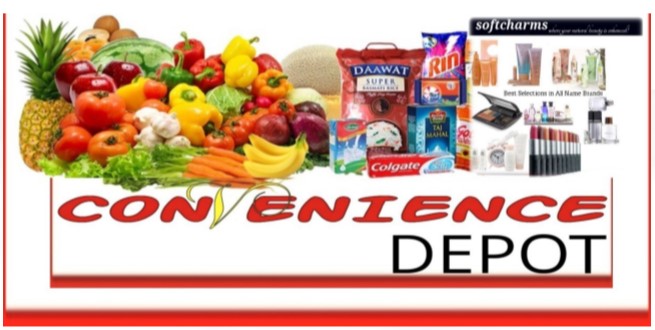 SHOPPING CONCIERGE
African Supermarket®
One-Stop African Supermarket: Comfy Depot
Convenience Depot, is an African supermarket that offers comfort to you and your household.
It's premium services, and a wide range of products are geared towards giving you a truly remarkable and comfortable experience away from African soil.
So, if you're looking to have that real African feeling enmeshed in comfort and style, then comfy depot is your store of choice.
Here, shopping is a lot easier as you can get all of your desired African goods and products from a single trip.
You can do this conveniently without working a tightrope on your budget as our goods, products, and services are all reasonably priced.
At 'comfy depot,' your convenience and satisfaction is our priority.
You'll get a wide range of African foods, snacks, seafood, and vegetables at a competitive rate.
We've got all of your shopping needs both for everyday use and special occasions covered.
Our product and value offer ranges from groceries, household utensils to personal and healthcare products.
What's most important is that we give everything you get from us an African touch so you can live truly African if that is your dream.
Yes, comfy depot is a great African market in the diaspora. Therefore, if you want a feel of the traditional African shopping experience, you're just at the right place.
Interesting right? All you need to do is, visit comfy depot to get your authentic African products while living abroad.
We are here for you. Let us give you what you truly desire because your comfort is all that matters to us.

SoftCharms: Ladies and Lords Studio & Boutique
SoftCharms is where your natural look is enhanced from head to toe. We give you that alluring and admirable look that will help you survive the reality of everyday lifestyle.
Our sense of style brings fashion to life, and we are here for the ladies as well as for the gents.
SoftCharms ladies and lords is both a studio and a boutique with a deepening commitment to make you look your best.
We offer you the finest selections in fashion, cosmetics, and photography.
At SoftCharms, you won't stick to the same menu because we have a diverse and wide range of products that will captivate your sense of style or beauty.
Simplicity, Elegance or Glamour are watchwords when it comes to dressing you for any occasion
Yes, we've got you covered. Looking good is indeed good business.
What's different about SoftCharms?
We offer you the best in-store service with a friendly treatment to make sure you have a personalized experience.
Loyalty reward programs for you and other outstanding customers.
Efficient customer feedback system. This is to ensure that complaints about products and service offers are resolved to serve you better.
Remember, at SoftCharm, we have an unwavering commitment to meet your demands and exceed your expectations.
Please stop by our store on your next shopping trip and check out our best selection of products.
With SoftCharms styles and adornment, you show you're a lady or a lord without words.
Come and let us help you look good.

iPORSCH Creates Mobility Through The Launch Of Its Ride-Sharing and Car Hiring Services
Are you going out of town or planning a trip around town, or simply going to an unfamiliar terrain.
Two things always come to mind moving via public transport or using your private car.
Where these two options are out of your reach or not convenient for your pick, you can either choose to rent a car or request a ride.
Trust me, it can be tiring going in your private car because it could take you hours on wheels as you will first have to understand the road networks and landscape of the town before you can cover an appreciable distance.
What matters most is that you're mobile and able to navigate around town and the buzzing cities.
If you've been caught on the web before on what option to take when travel
ing, then worry no more as iPorscher is here to serve that need.
Most People prefer to travel by air, but you still have to use a car rental service both to and from the airport even when you do.
To this effect, iPorscher offers both pick-up and drop-off in each major airport and other key locations all over the country.
All you need to do is visit iPorscher to either request a ride or rent a car for your road trip. Your safety and comfort at all times are guaranteed when you choose iPorsche car rentals and ride-sharing services.
When you do so, you'll be saving yourself money's precious cousin, time.
And also you have a good time off watching the beautiful landscapes while chatting with pals.
Yes, when you request a ride, your peace of mind is guaranteed as the burden of navigating highways and watching traffic signs, looking out for incoming vehicles, and cracking down on speed limits would be off your shoulders.
At iPorscher, our car rental service is available in different states and districts here in the US.
Here are a few reasons you should choose iPorscher car rental services:
Low and affordable price
Peace of mind vehicle cover and insurance
Pre-prepared paperwork for the vehicles
Convenient vehicle pick-up
Best vehicle condition
Amazing variety of vehicles
Customer-friendly discount packages and promotional offers
Next time, If you want to make your transportation fun and enjoyable?
You can either rent a car or request a ride at iPorscher to ensure smooth and hassle-free transportation.

iPLAZAPRINTS
Are you looking to copy print, fax, scan or design something?
Then worry no more; with iPLAZA, all your project needs are supported.
We provide a variety of designing, copying, printing, scanning, and faxing services.
What we do
Fax, scan, and copy center services
Printing / Photocopying
Scanning services
Send and receive fax.
Design services
Proofreading services
Design proofing
iPLAZA is consistent in delivering premium services to its customers.
We help you go paperless through our scanning services by scanning your documents in either black / white or color.
Our scanning services come in two folds:
Scan and email service: where we scan your documents and send them to a designated email address.
Scan and save service: where we scan and save to your storage device.
We help you digitalize your documents for use on the go.
We also help you send and receive a fax on your behalf.
As a premier one-stop-shop for print services, we employ best-practices and technology to deliver our services right on time.
Visit us today at iPLAZA prints for effective and efficient service delivery.